Jul. 11, 2023– Microvast Holdings, Inc. (NASDAQ: MVST) ("Microvast" or the "Company"), a technology innovator that designs, develops, and manufactures lithium-ion battery solutions, today announced the expansion of its Colorado energy division to a new facility in Windsor, Colorado.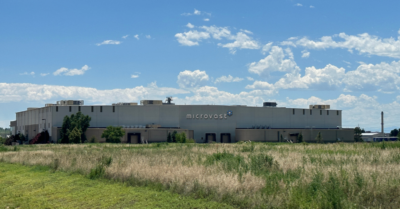 "Northern Colorado has been a great home to Microvast, and we are excited to expand our operations by opening a manufacturing facility in Windsor," said Zach Ward, President of the Microvast Energy Division. "The Windsor facility is expected to be operational in 2023 and is poised to play a significant role in delivering superior energy storage systems (ESS) to the fast-growing, utility-scale energy storage market, while boosting the local economy and creating more jobs here in Colorado."
Microvast's new manufacturing plant provides nearly 100,000 square feet of production space, with ample room to add production lines for its ESS product as needed.
Ward continued, "We are pleased to expand our footprint in Colorado as we continue to support the growth of the U.S. energy sector and position ourselves as a leader in the domestic lithium-ion battery manufacturing industry."
Colorado State Representative Mike Lynch said, "I am thrilled about the exciting expansion of Microvast in Windsor, Colorado. Microvast's investment is significant for our state, as it will create economic growth, new jobs, and important technological advancements. Colorado is a hub for innovation, especially in clean energy. Microvast's expansion is part of this trend, and it will have a positive impact on our local economy and inspire other companies to invest in our great state."
Upstate Colorado Economic Development President/CEO, Rich Werner, said, "Weld County has a diverse energy economy, and we welcome Microvast as it establishes operations in Windsor. We look forward to continuing to work with Microvast as it expands in the region."
Windsor Mayor Paul Rennemeyer said, "Windsor is excited to welcome Microvast Energy to our community. We know it will be a great asset to our industry base, bringing lots of high-quality jobs and investment into the town."
The strategic location of the plant will enable Microvast to optimize its supply chain and reduce lead times, resulting in faster delivery of its ESS solution to customers across the U.S. "This improved logistical capability is expected to strengthen our competitiveness and help us transport our ESS product efficiently," Ward added.
The facility will be used to assemble and ship Microvast's industry-leading ESS solutions and expand Microvast's energy division, supplementing the Company's Technology and Testing Center in nearby Timnath.
"Microvast takes pride in our track record of manufacturing high-quality, safe products," said Ward. "Our facilities adhere to stringent quality control standards, and we continuously invest in research and development to stay at the forefront of technological advancements."
Microvast's ME-4300 ESS is a 20-foot battery container featuring an industry-leading 4.3MWh energy density and maintains functionality for more than 10,000 cycles. Higher density translates to fewer containers, a smaller footprint, easier installation, and reduced maintenance. With its capability to discharge for 2 and 4 hours, the ME-4300 battery energy storage solution is designed for energy-shifting applications, such as renewables integration, peak demand, and capacity support.
About Microvast
Microvast is a technology innovator that designs, develops, and manufactures lithium-ion battery solutions. Microvast is renowned for its cutting-edge cell technology and its vertical integration capabilities, which extend from core battery chemistry (cathode, anode, electrolyte, and separator) to modules and packs. By integrating the process from raw material to system assembly, Microvast has developed a family of products covering a breadth of market applications, including electric vehicles, energy storage, and battery components. Microvast was founded in 2006 and is headquartered in Houston, Texas.
For more information, please visit www.microvast.com or follow us on LinkedIn or Twitter (@microvast).
Cautionary Statement Regarding Forward-Looking Statements
This communication contains "forward-looking statements" within the meaning of the Private Securities Litigation Reform Act of 1995. Such statements include, but are not limited to, statements about future financial and operating results, our plans, objectives, expectations and intentions with respect to future operations, products and services; and other statements identified by words such as "will likely result," "are expected to," "will continue," "is anticipated," "estimated," "believe," "intend," "plan," "projection," "outlook" or words of similar meaning. These forward-looking statements include, but are not limited to, statements regarding Microvast's industry and market sizes, future opportunities for Microvast and the combined company and Microvast's estimated future results. Such forward-looking statements are based upon the current beliefs and expectations of our management and are inherently subject to significant business, economic, and competitive uncertainties and contingencies, many of which are difficult to predict and generally beyond our control. Actual results and the timing of events may differ materially from the results anticipated in these forward-looking statements.